AFFORDABLE

PRICES

FRIENDLY

& TIDY

WORK

GUARANTEED

LATEST

TECHNOLOGY

Time has taken its toll...



Your wooden floor - once a feast for the eye in its shiny beauty - is now a grey, scratched apology you shudder over 
when you enter the room.



Yet the remedy is straightforward..
A fresh new surface from the professionals.
Call on Floor Sanding Dagenham for all your floor restoration needs in RM9.
Whatever your type of wooden floor -from hardwood boards to parquet blocks - we'll bring it back to life:
- repairing and replacing any damaged timber
- sanding away old sealant and paint to bare wood

                    -    staining for a change of colour. Go for a darker or lighter look to match your decor. 
                         Modern grey and Scandinavian white are ideal for spacious  open plan properties.

 
                    -    resealing with the fresh protection of natural oil, hard wax or lacquer.

All to the highest level of workmanship - and minimal mess.
Don't worry about dust - the job will be virtually dustfree with
the efficient collection from our machines. And we can work
flexibly to keep business or personal disruption to a
minimum - at weekends or even overnight in RM8.
So call us today for your free assessment. You'll get the best
advice from a company who have sanded hundreds of floors
over the past twenty years.
And - given the improvements in both restoration techniques and products - your new floor may even be better than the original.
Floor Sanding Dagenham - for a floor to be proud to display to guests, family and customers in RM10.
Life before Ford
Any wooden elements of the local buildings should pay some kind of homage, given the submerged forests lying under the marshlands of the Thames.
​Lying between the vast Becontree estate and the Ford main works, St Peter and St Paul is a surprising survivor of a genuine village church. Although the tower was rebuilt in 1800, it has elements of 13-15th century work within.​
​The vicarage has parts dating from the 1600s, while the Cross Keys is a gabled 15th century timber-framed building.​
To the south, Rainham has a complete late Norman church - rare for Essex - with a 15th century chancel roof, complete with wooden kingposts and tiebeams.
Rainham Hall is a small red brick house of 1729 with sumptuous features - including a handsome staircase with twisted balusters.
Wood flooring ideas for your kitchen
Everything from wooden floorboards, laminate boards and solid wood can work in your kitchen, as long as it is installed correctly and properly sealed. Below we share some wood flooring ideas for your kitchen.

Solid oak

Solid oak is always a good idea as a flooring choice in the kitchen. This type of flooring is incredibly hard-wearing and will last you for years. It's also perfect for creating that classic country kitchen. What you must remember is to properly seal the floor and to apply a lacquer of varnish finish.

Wooden floorboards

Wooden floorboards are a good choice as long as they are in good condition and that all gaps are properly filled. Sanding floorboards is incredibly important to create a smooth finish on which to apply paint or stain. It's always best to use a wood floor repair specialist if you plan to use your kitchen floorboards and to hire a dust free floor sanding machine to create minimal mess. Varnishing floorboards is also essential for longevity and to keep them moisture free.

Ash toned laminate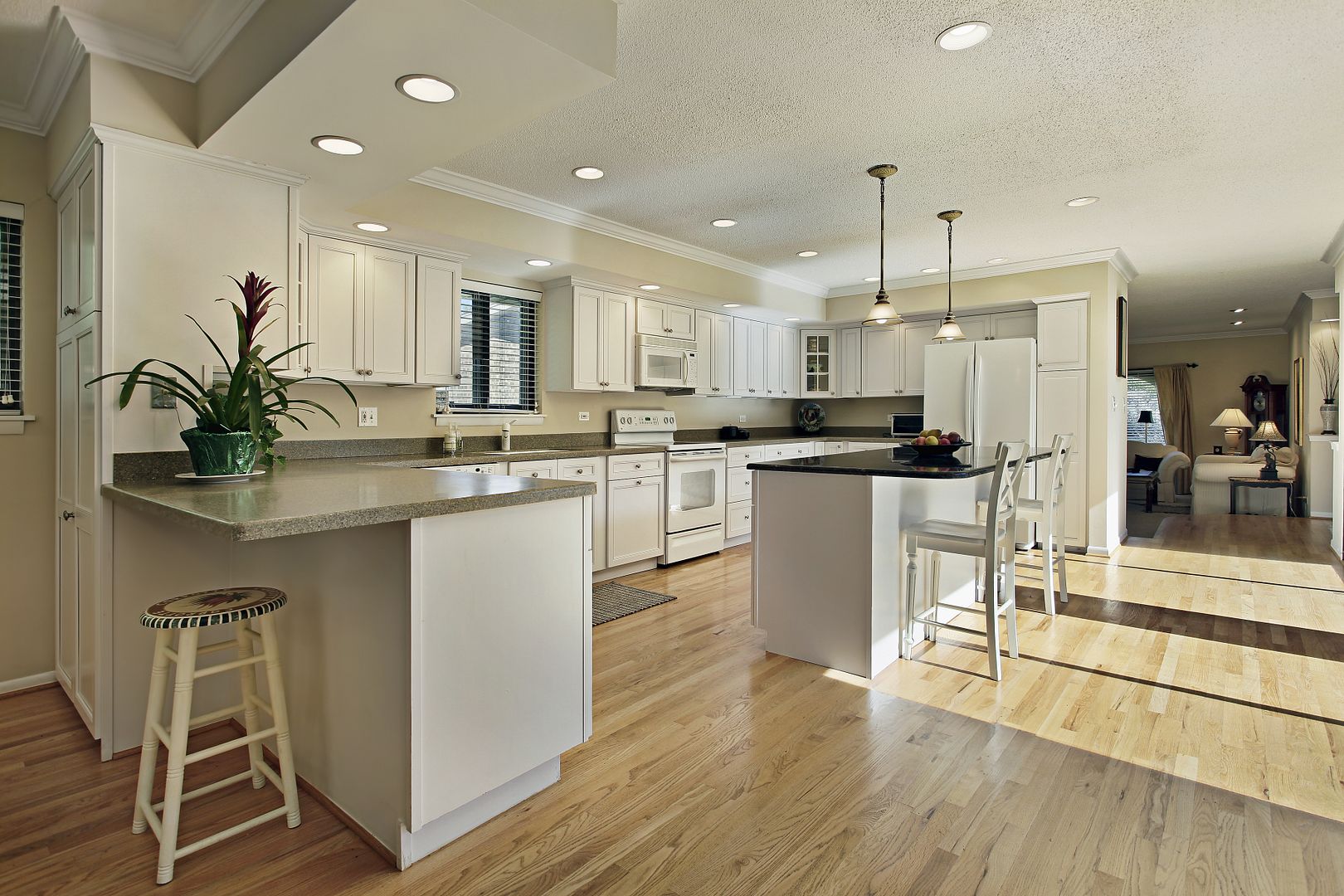 Laminate is always a good option in a kitchen as it absorbs and retains very little moisture. It can be lightly sanded and a varnish of your choice applied. However, many boards come fully varnished and are widely available in a choice of colours and finishes. Ash tones always make a welcome addition to a kitchen and help to open up a small space. Using two tones of colour along parallel boards will also help to elongate your floor space.

Engineered oak

If you love the idea of installing a solid oak floor, but require something a little cheaper, then engineered oak is a good choice. Available in a variety of shades and finishes, you can get the right look for you. Dark oak with reddish undertones always makes a kitchen floor feel warmer.

Wood look vinyl

Finally, this one is actually a bit of a cheat. Vinyl flooring is durable, incredibly practical and waterproof, making it ideal for your kitchen. There are also many wooden shades to choose from that include wood themed patterns and printed floorboards.
Before & After